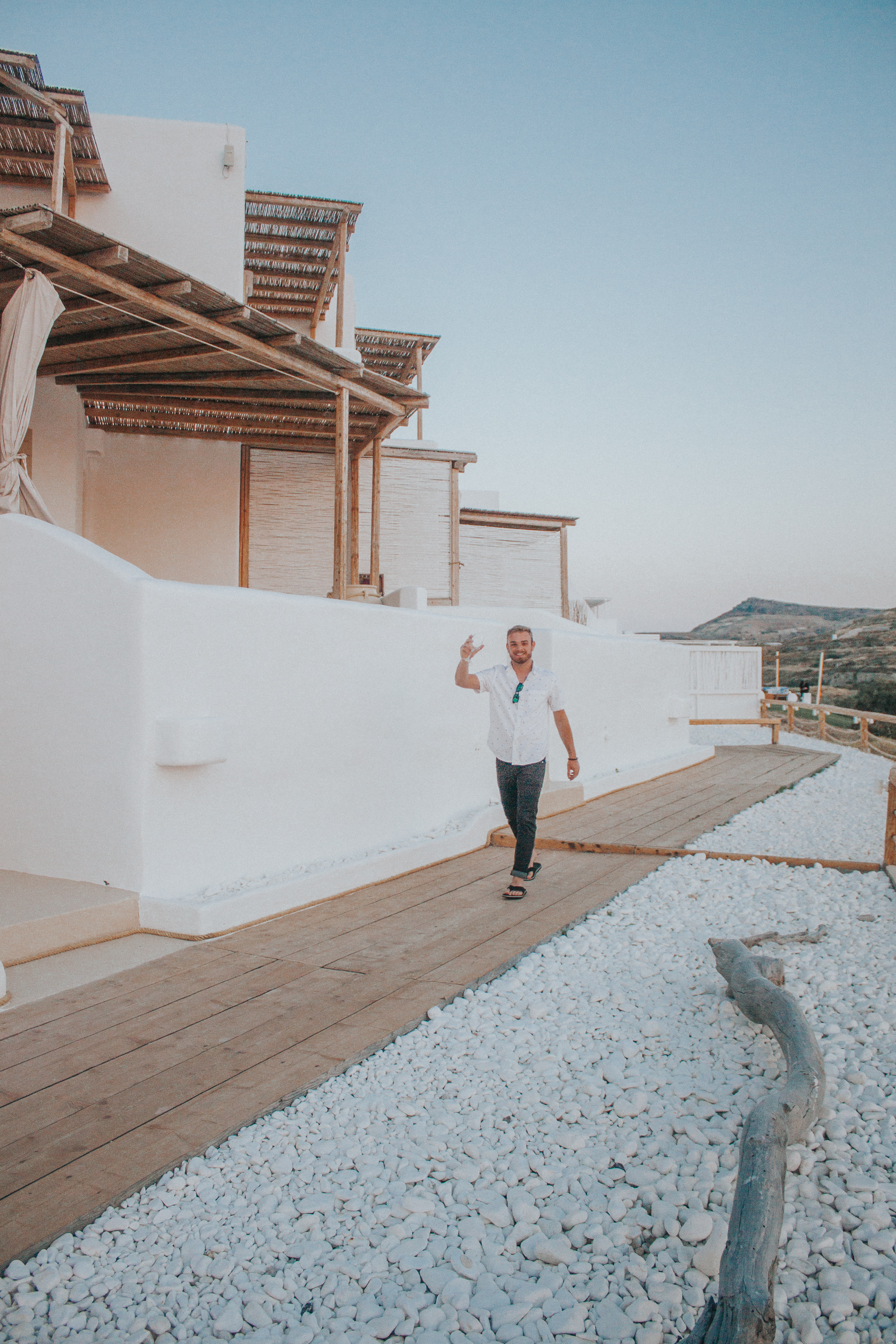 Greece is home to some of the most iconic sunset spots in the world. I mean, have you seen Oia? Of course you have. This blog post isn't about that location. It's about one lesser known island. This is where you will find the best sunset in Greece.
Back in May, Will and I planned an impromptu trip to Greece. We were taken in by the photos of Santorini. The all-white backdrop with little blue domed churches on cliffs. Me, being the adventurer I am, wanted to explore the less frequented areas which meant that we'd have to get on some boats and island hop. Boy am I glad we did. The islands we hopped to were Santorini, Ios, and Milos.
Warning: May is the early season. Our hostel in Ios didn't even have their pool filled yet and we walked the whole island without seeing a single person. We walked right into luxury resorts and sipped on complimentary cappuccinos because they didn't have their tills ready. Surprisingly, Santorini was still insane. It was flooded with tourists and people were literally crawling on top of us to get to the prettiest spots of the island for sunset. Little did they know, the best sunset in Greece was elsewhere. There are tons of blogs written about Santorini and Ios so I won't dive in. In a nutshell, Santorini is for sightseers, and Ios is for partiers.
But Milos was heaven.
We took a 1.5 hour Super Jet from Ios to Milos and it was the worst ferry ride I'd ever experienced. Superjets are fast boats that cannot handle waves and these are deep sea waves. We were basically on a rollercoaster for an hour. At one point the attendants were throwing barf bags into the seats of people to get them out fast enough. I'll spare you the details.
Milos is a large island so generally, you'll have to taxi to places or rent a car/ATV. Since we didn't have international licenses we weren't able to rent a car or an ATV so we befriended a taxi driver who agreed to pick up and drop off at all the locations we wanted to see. We got into our taxi and set off for our small resort.
We pulled up to the edge of a small cliff where we saw the pristine white oasis.
We stayed at Salt Suites, Milos and it truly is the best sunset spot in Greece.
The staff were delightful and gave us complimentary raki which I happily denied after what I just experienced on the ferry. They showed us to our room, Mandrakia and my jaw hit the floor. White everything. Flowing transparent drapes separated the room from the entryway and the room from the balcony. The view was completely unobstructed and looked out to the opposing cliff which had no buildings or structures. You can see a walkthrough on my Instagram Highlights.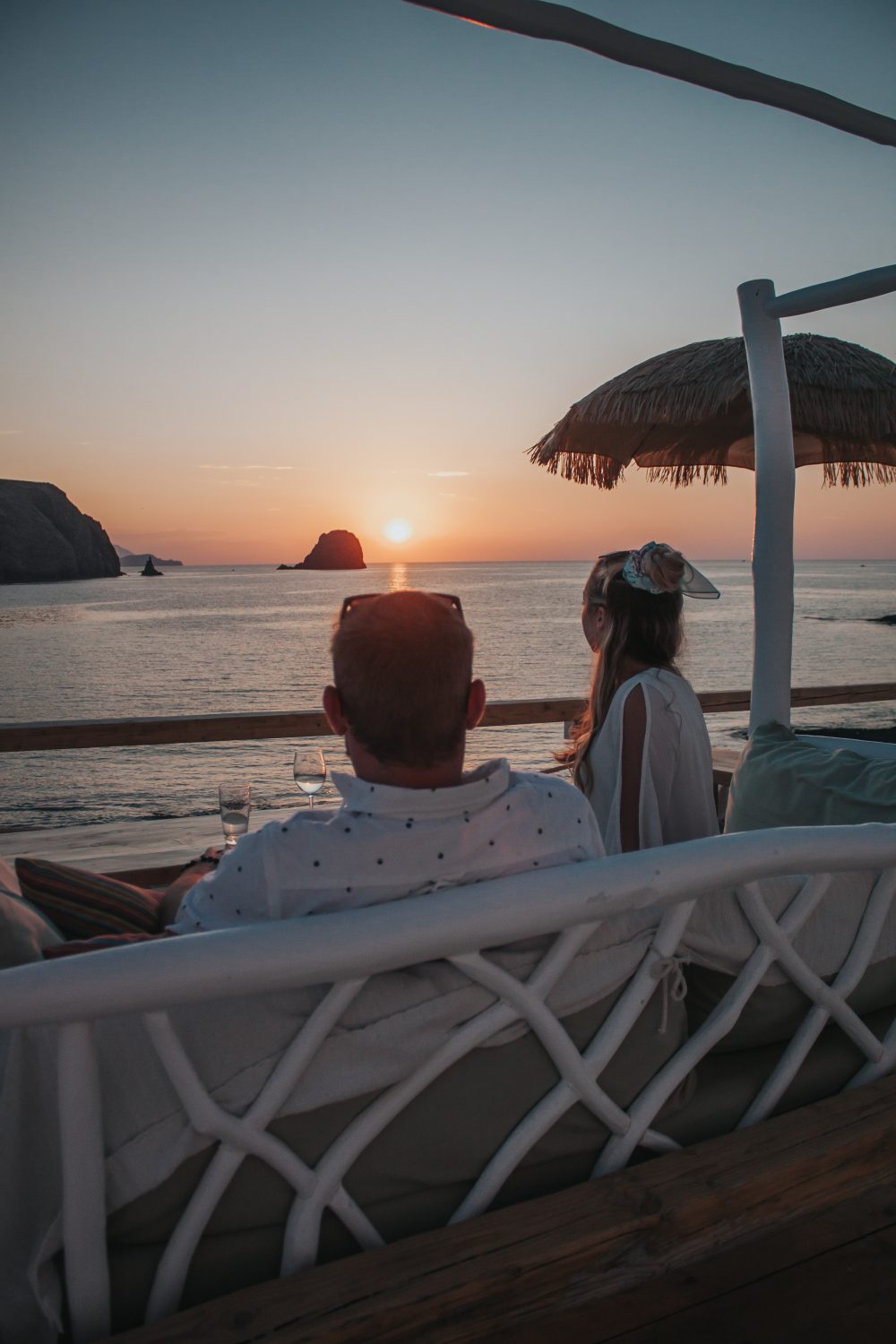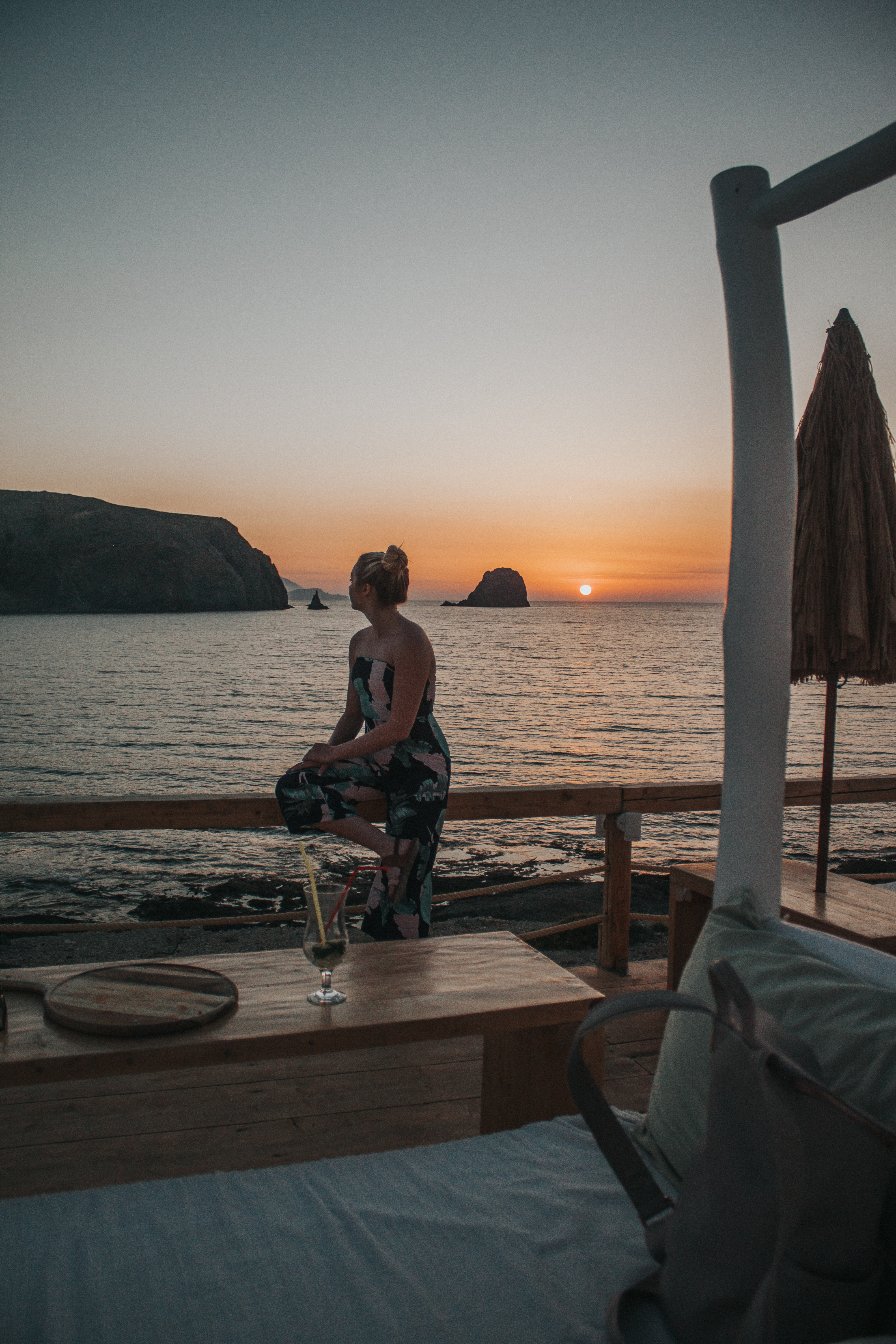 Milos is fairly quiet but since Salt Suites is located away from other resorts we'd see people hanging out having small apps and bevies every night we were there. Some of the rooms even had hot tubs on their balconies and the staff would go over and serve drinks right to the tub. Salt Suites is a walkable distance to the town where the seafood options were insane. Will ordered grilled calamari and they brought out an uncut grilled squid. The entire squid!
Every evening we wrote down what we wanted for breakfast in the morning and the staff delivered it to us in our room. Coffee and croissants on the balcony were HEAVENLY.
Every night we set up shop in the little day beds and couches on the cliffs of Salt Suites with a glass of vino and margarita pizzas to watch the best sunset in Greece.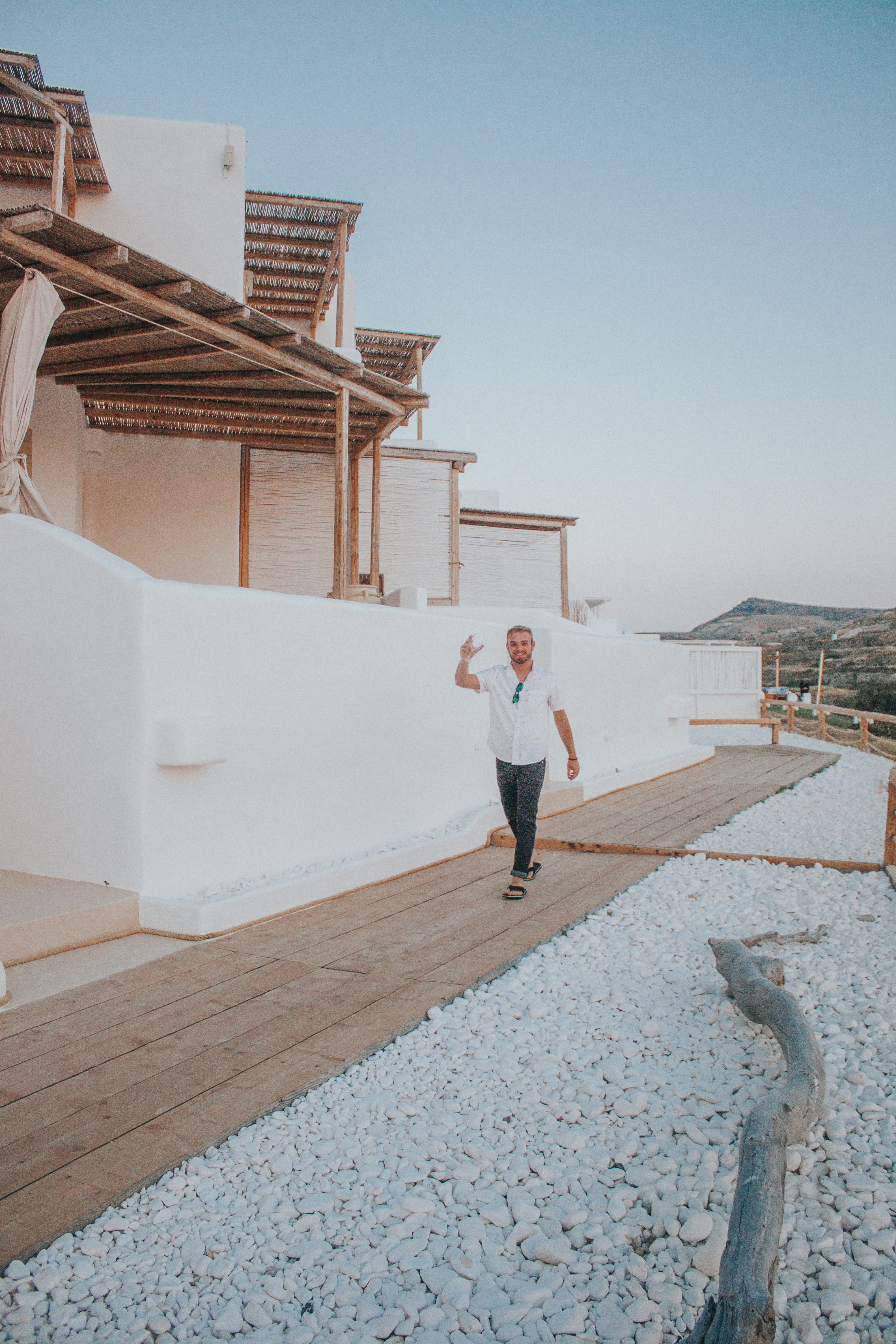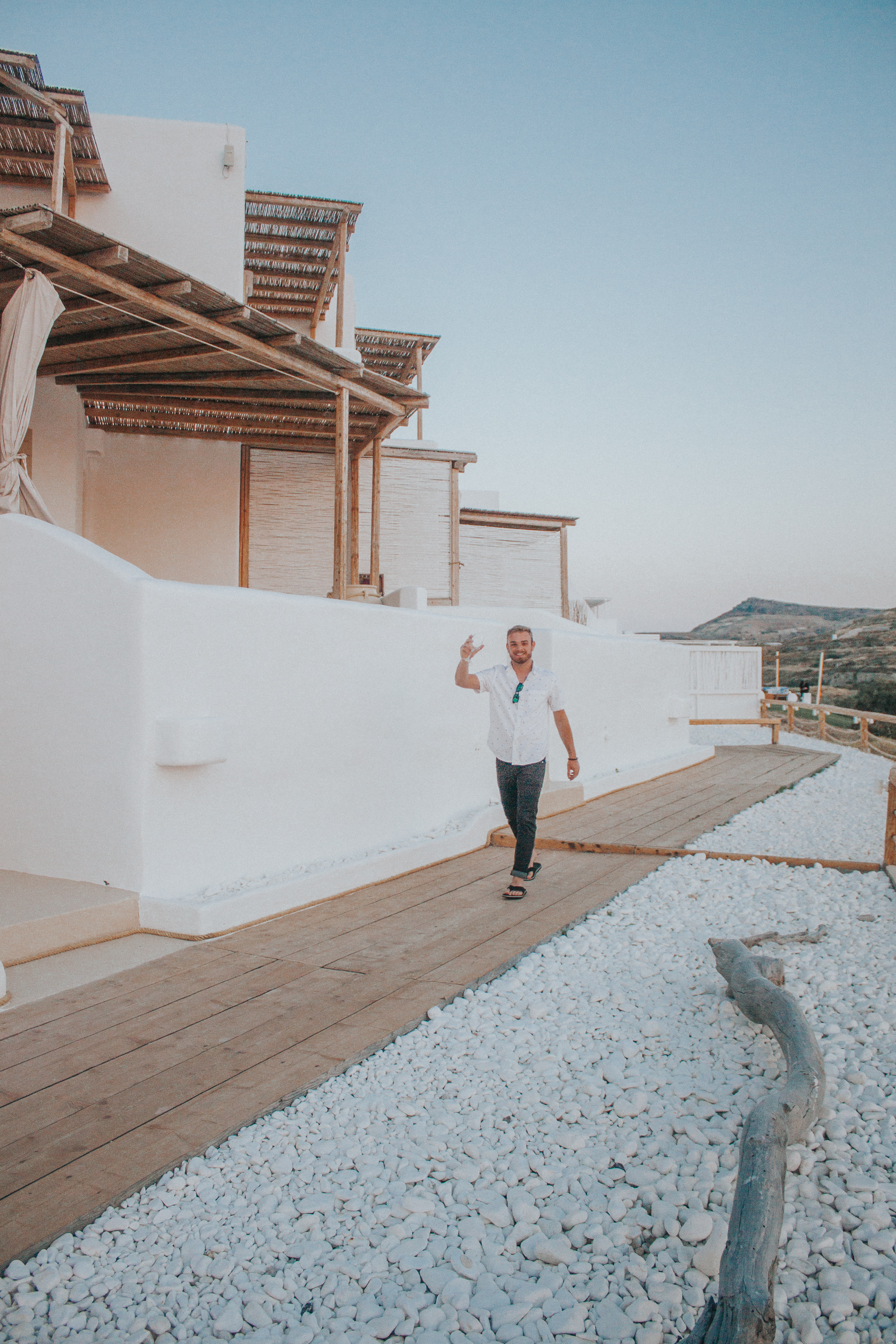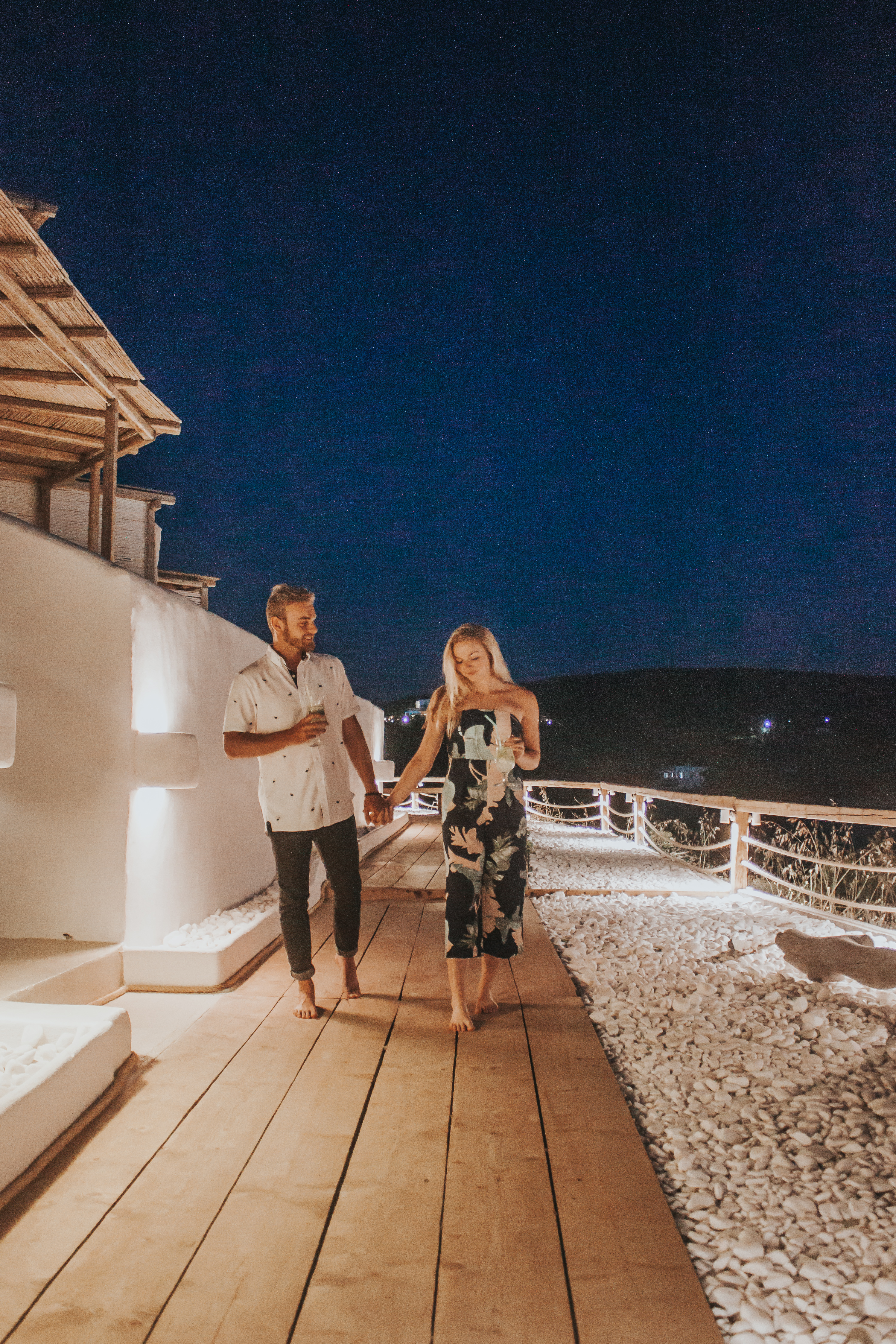 If you're looking for other lovely places to check out in Milos here were our favourites:
Sarakiniko Beach.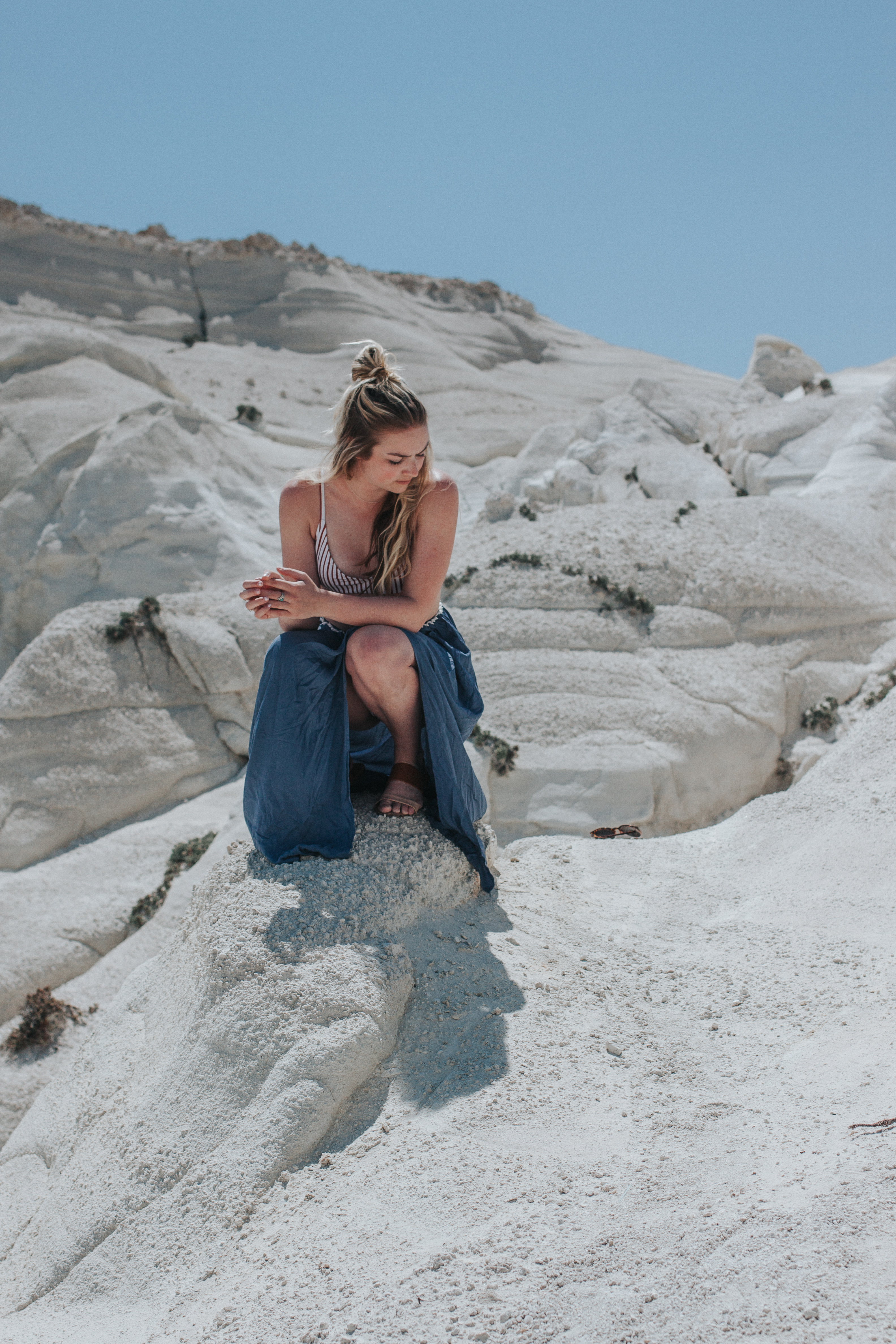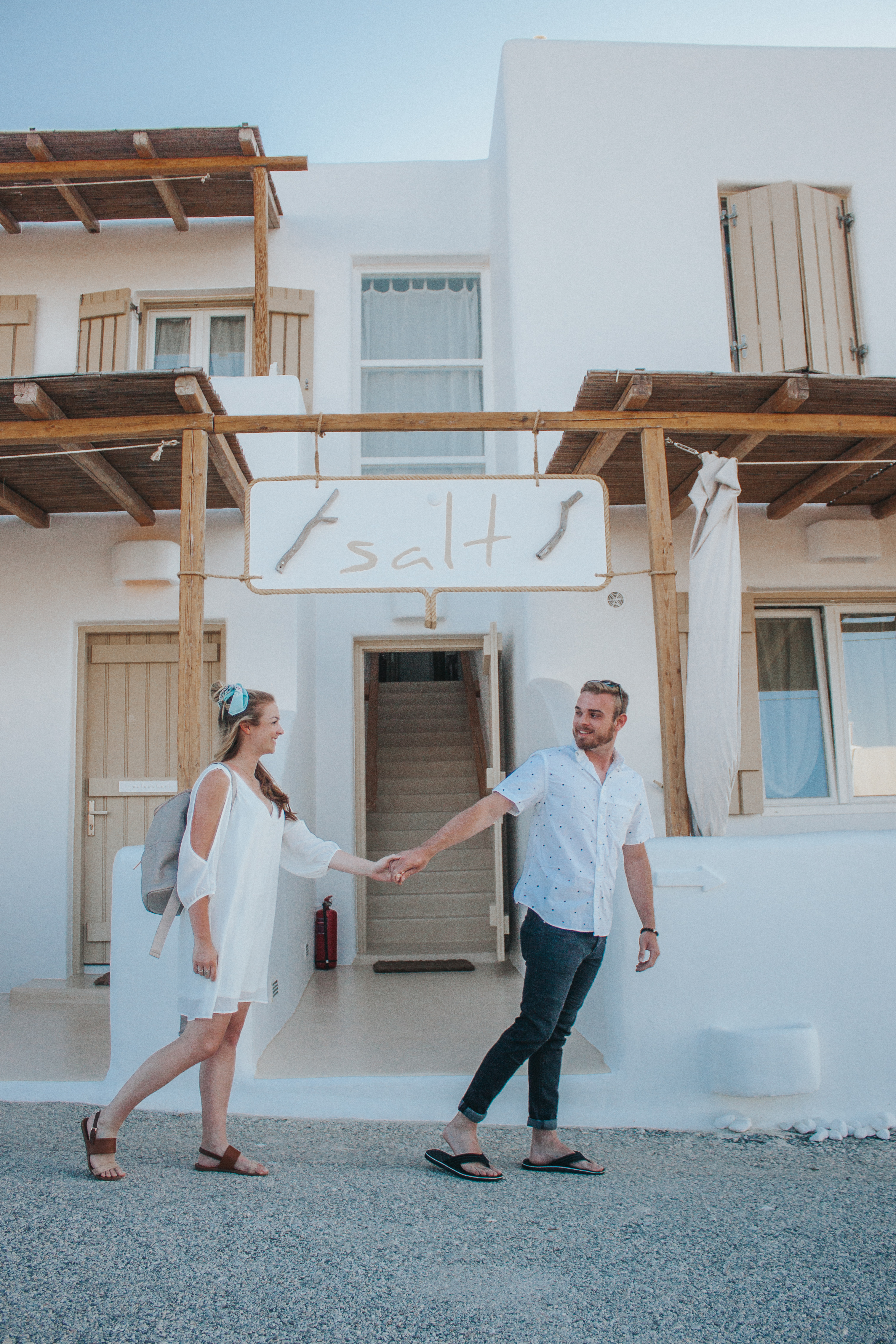 Sarakiniko is about a 20 min drive from Salt Suites and is composed of exposed white rock that looks out of this world. There are hoodoos everywhere you can climb on around a cove that the water seems to have carved out of the earth. 
Cliff jumping paradise.
Tsigrado.
Tsigrado is a small beach that you have to scale a series of cliffs and ladders to get to. It is very small so few people can hang out on it, which makes it perfect for people like Will and I. No tourists? Yes, please. The cliffs tower over the beach so sun exposure can be tricky.
Papafragus.
Next up is a cove called Papafragus. Any local should know where this is. From above the cove it's ultra stunning. The water is completely clear and turquoise like you wouldn't believe. There is a path all the way around it which makes a nice walk. There's also a path down into the cove that's pretty sketchy so running shoes are necessary. Once below, kick back and relax. Go for a swim all the way out and around the coves beside it. You will be able to see the bottom the entire way.
Warning: Since we went there it has been largely blocked off with signs so getting to the beach below has been made difficult. Use at your own risk.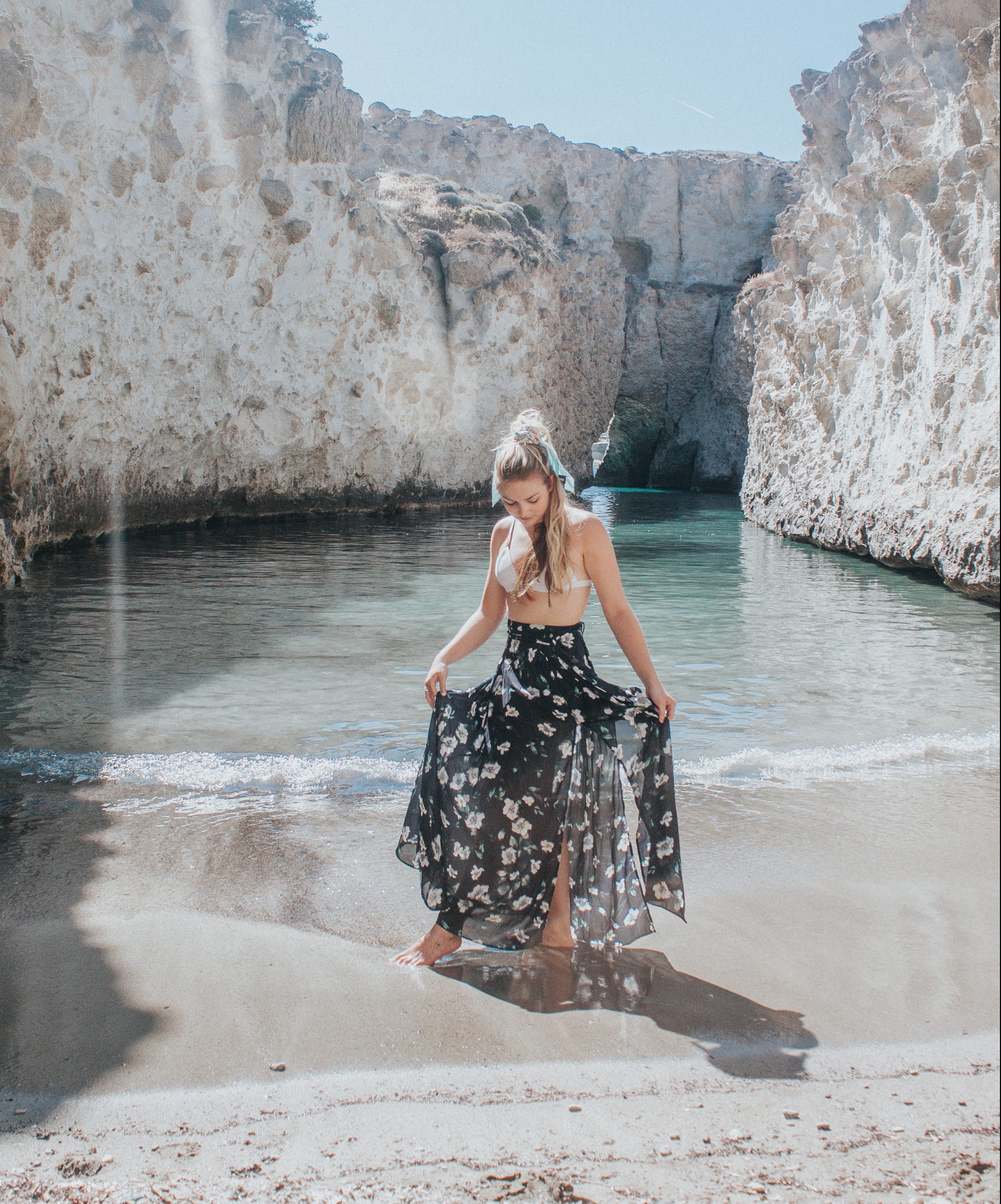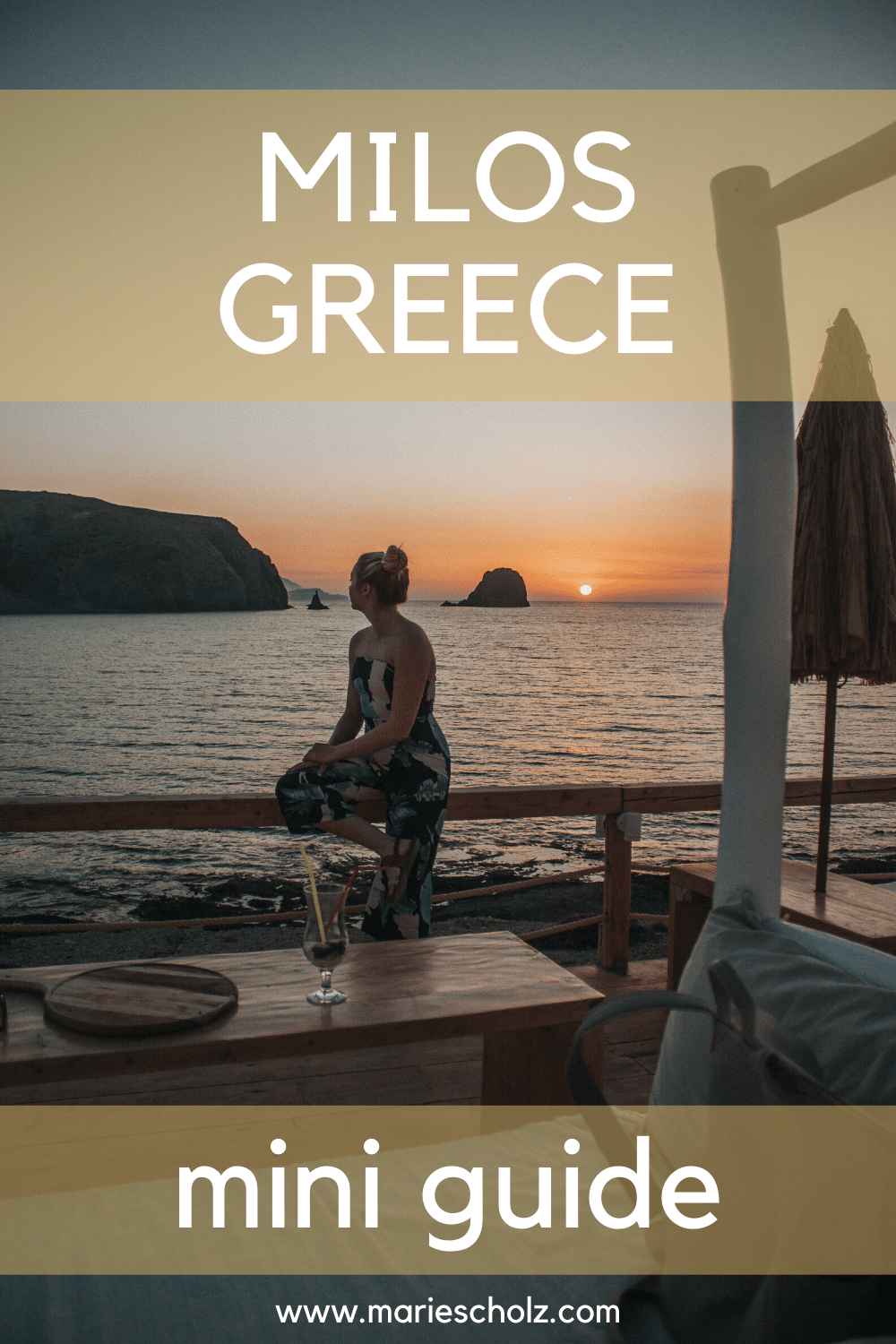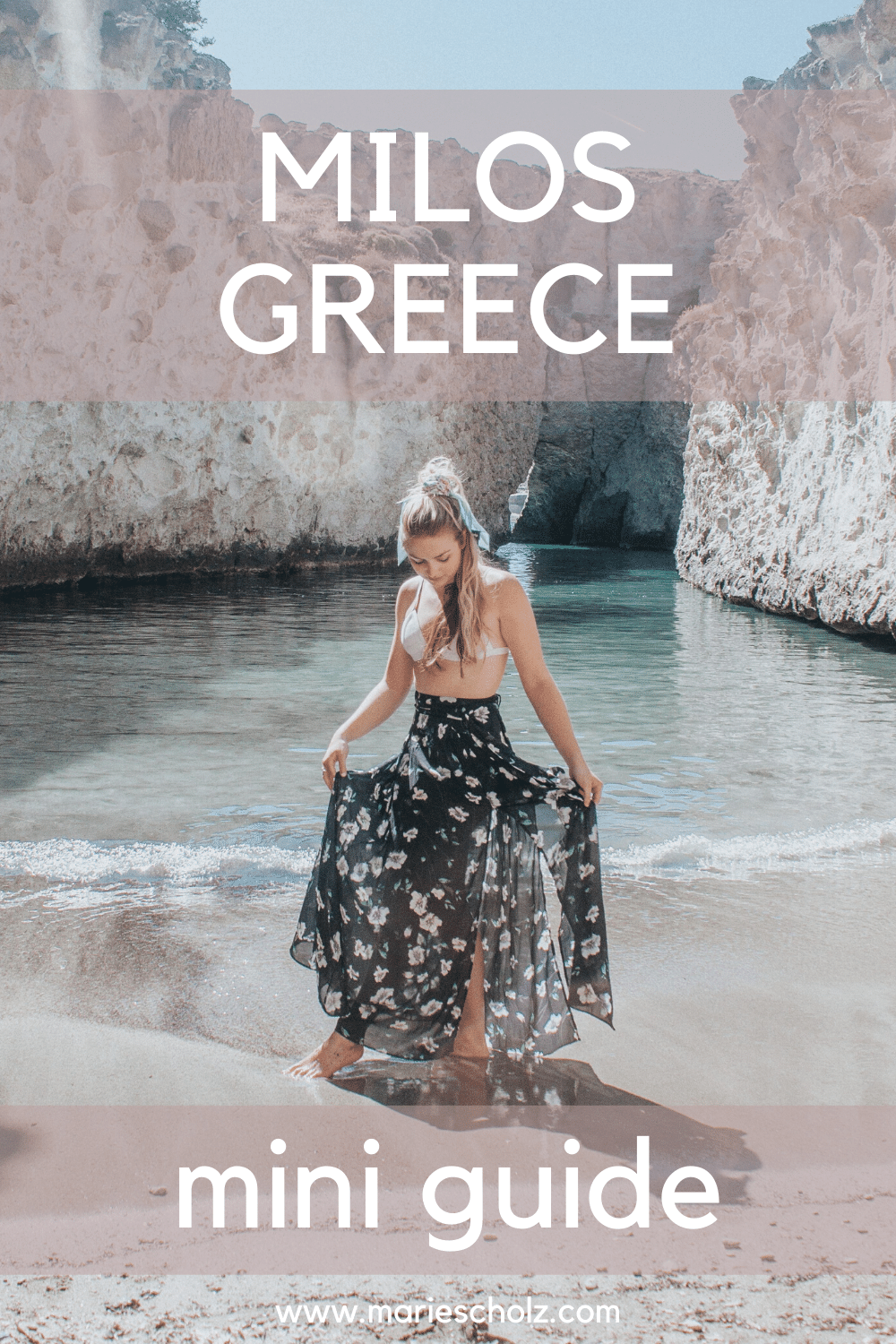 Planning an Elopement in Greece?
Looking to elope or plan an intimate wedding in Greece? I know all the best spots! I'm Marie, my clients call me their adventure guide, their wedding photographer and after the party is over, their best bud! Into it? Let's chat!
[flo_instagram padding="0" picture_sizes="480x480_crop" link="1" nr_columns="6" mobile_images_row="2" limit="6" new_user_id="marie.exploring" access_token="new"]