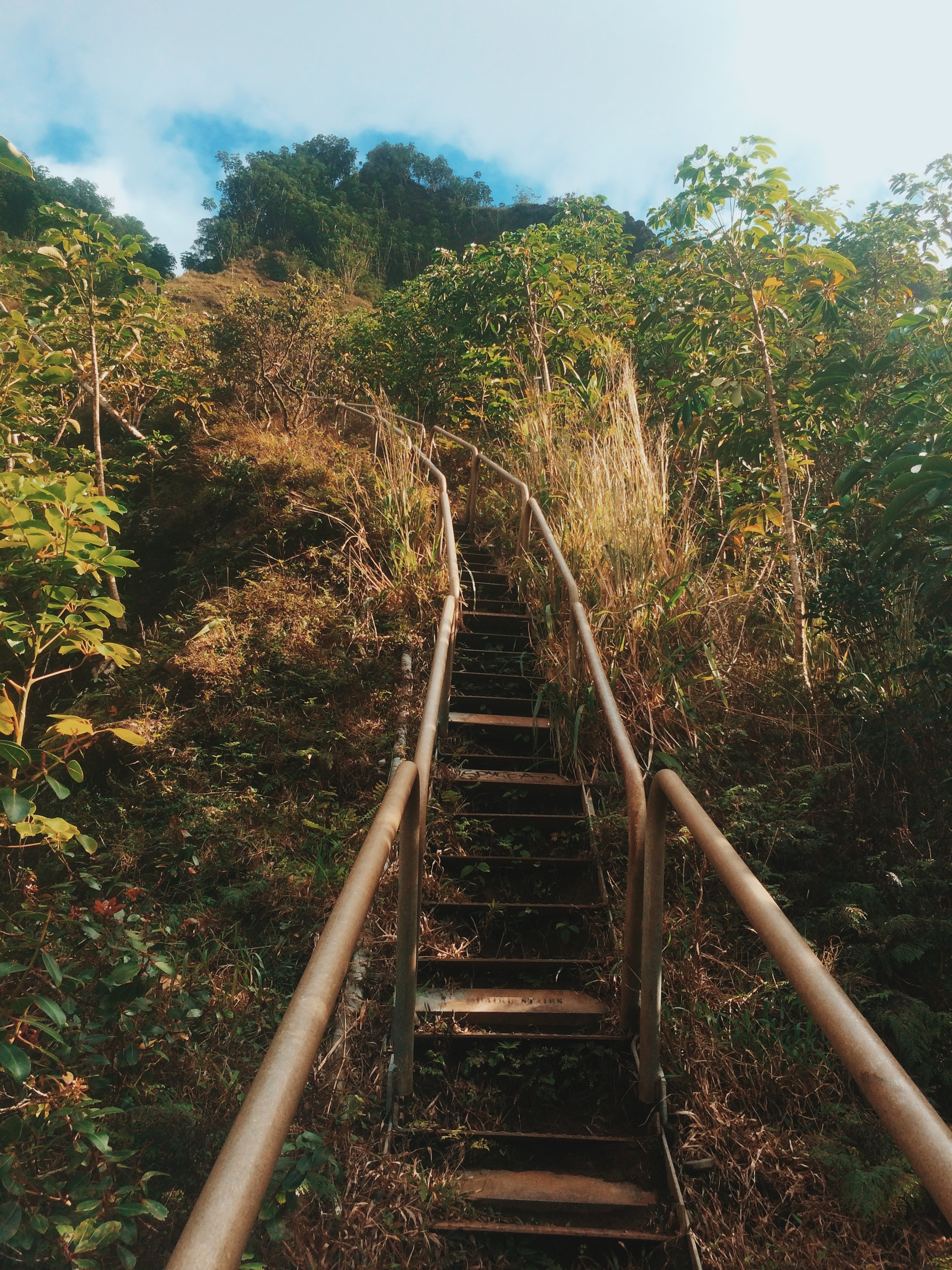 The hike I am referring to is commonly known as the Stairway to Heaven or Haiku Stairs.
I'm not supposed to recommend this hike because it's illegal BUT it was hands down the highlight of my trip to O'ahu, Hawaii so how could I not?
There are quite a few bloggers who have written about how to get there but I'll give you my own summary as I had quite a different experience than every other blogger I've read so here we go!
Steps
We showed up on Kuneki Street in a cute little neighbourhood around 3:30 pm with not a real great idea of where we were to begin. Here's the address of the area to park around: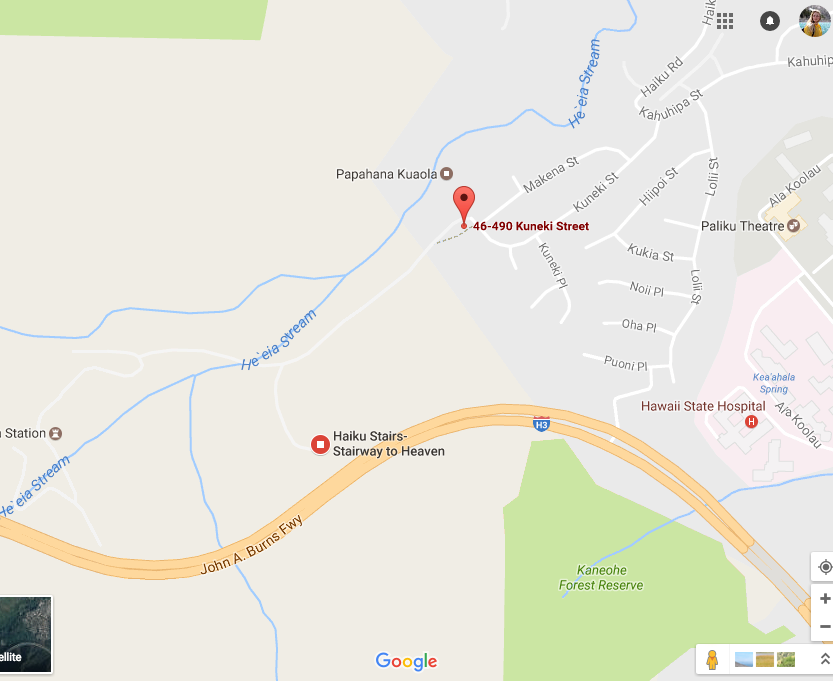 If you park anywhere directly adjacent to the gated road where you start, you will be towed, so I suggest parking a 5 min walk down Kuneki Street or in any of the surrounding neighbourhoods.
Be super respectful of the communities.
Where Kuneki St met Makena St there was an obvious gate that was wide open and an ancient street sign that said "Haiku" on it. We could see the beaten down path that was left around the right side of the gate from all of those people who embark on this hike in the middle of the night when the gate is closed.
As we started walking, there were many cars that passed us, which made me so nervous! One truck stopped next to us and immediately asked us if we were doing the hike. Unsure of what to say, he continued to tell us that this is a private road and if we did the hike we'd be arrested and given a $5000 fine.
This was BS but sketched us out nonetheless.
We continued on the road making a left at the first fork and a right at the second fork which brought us to some fallen down trees.
10 min later on the left side of the old road/path, we saw an opening in the woods with a red sign that said KAPU.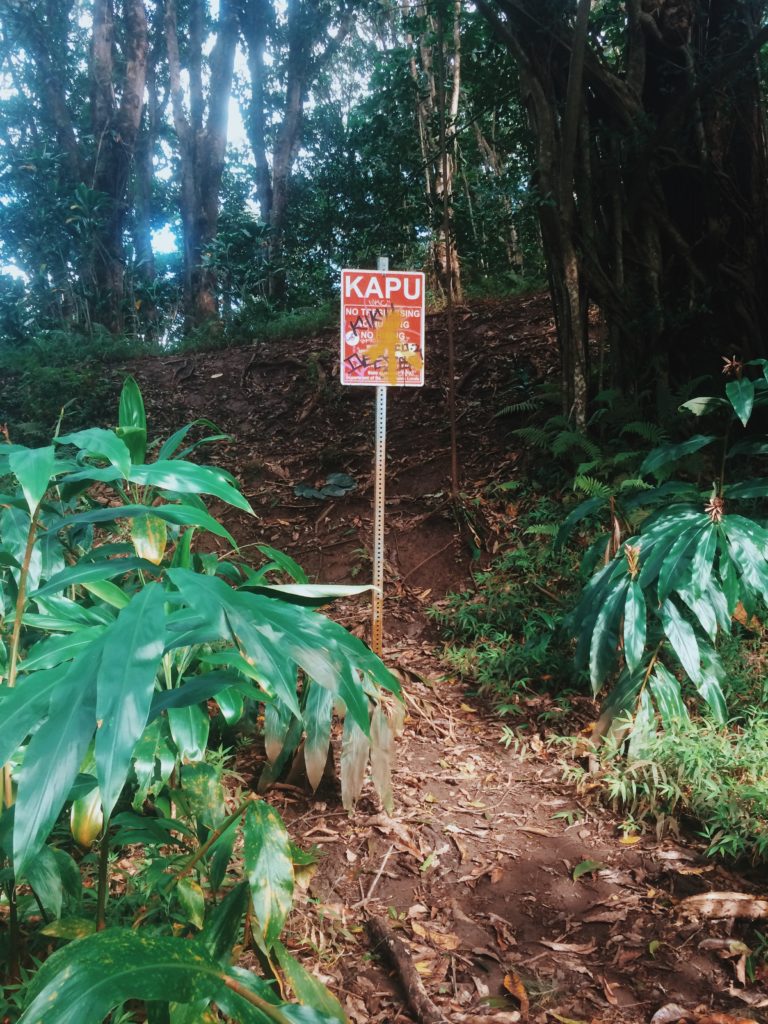 Walking along the dirt path we came across a fence with a hole in it. Under we went and eventually we got to another road. We could see the guard waiting and we prepared ourselves to make a break for it or just chat him up. We had no idea what was going to go down.
Here's where the real fun began. I was basically peeing my pants at this point because confrontation and I are literal enemies and I obviously didn't want to be arrested or fined.
The guards cannot arrest or fine anyone
We approached the guard and I think we asked if we could go up. Now that I write this, that was a dumb question. The guard responded by saying that this hike was illegal and if you are caught, the police can fine you $400 and you get a court date. During his spiel about obeying laws, I pointed up at the stairs and said, "there are people coming down the stairs right now."
He was whistling a different tune in no time
He told us that we could go on up, warning us about the part of the hike where the handrails had fallen and the stairs were deteriorating. He mentioned his shift ended at 6 pm and then there would be a new guard so coming down would be more difficult. He said that if he was still there we had to be careful of a sensor and wait until he gave us "the coast is clear" motion.
So up we went!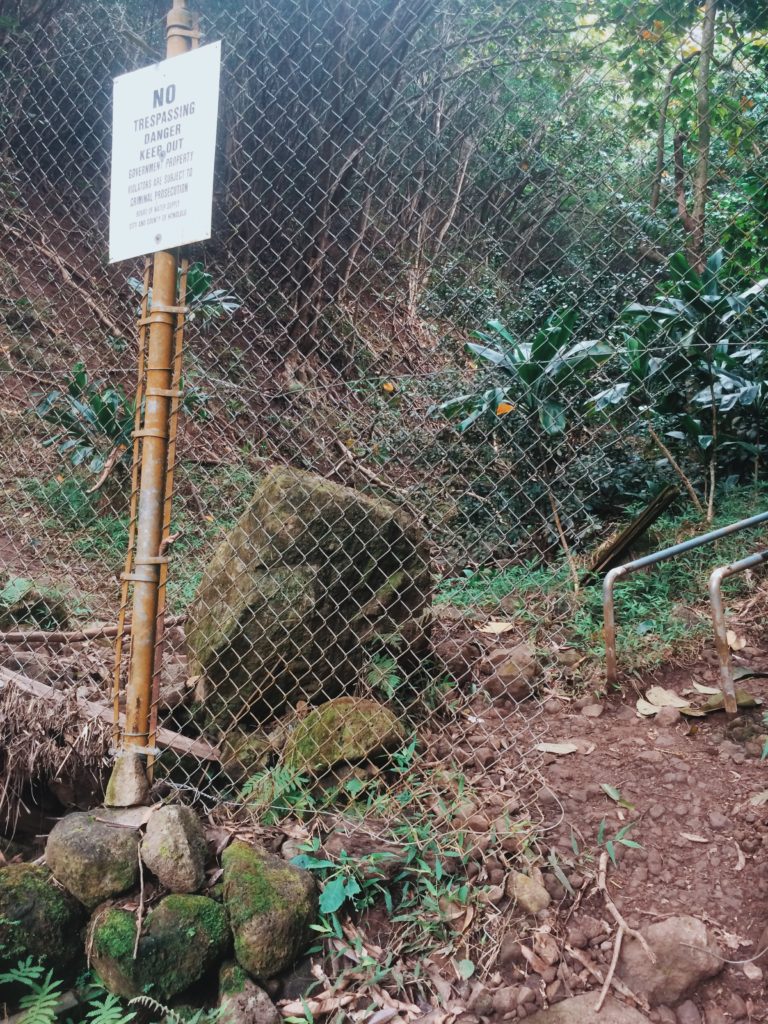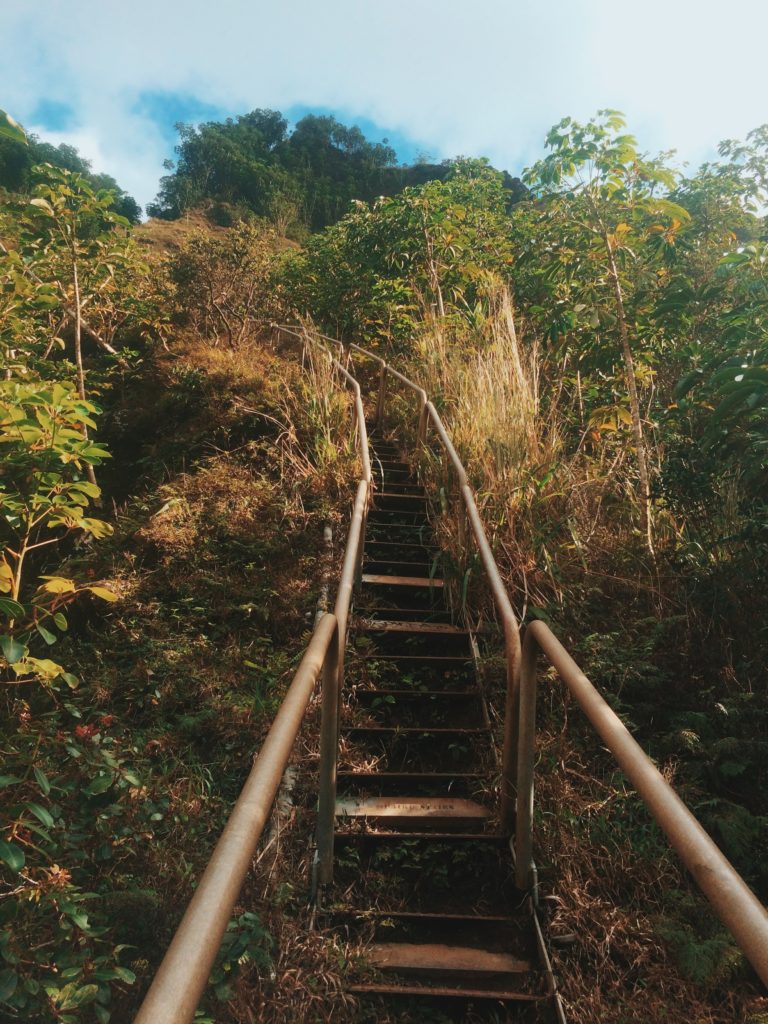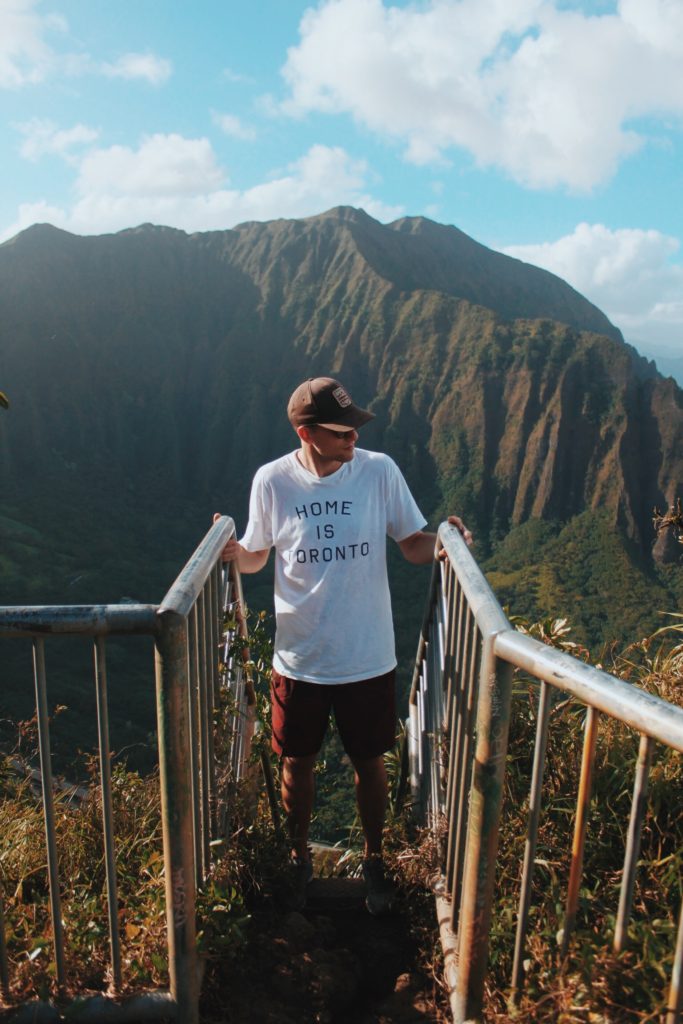 It took us about an hour and a half plus one hour at the top to watch the sunset. There was NOONE up there with us, which was so ideal.
The Stairway to Heaven landscape was unbelievable.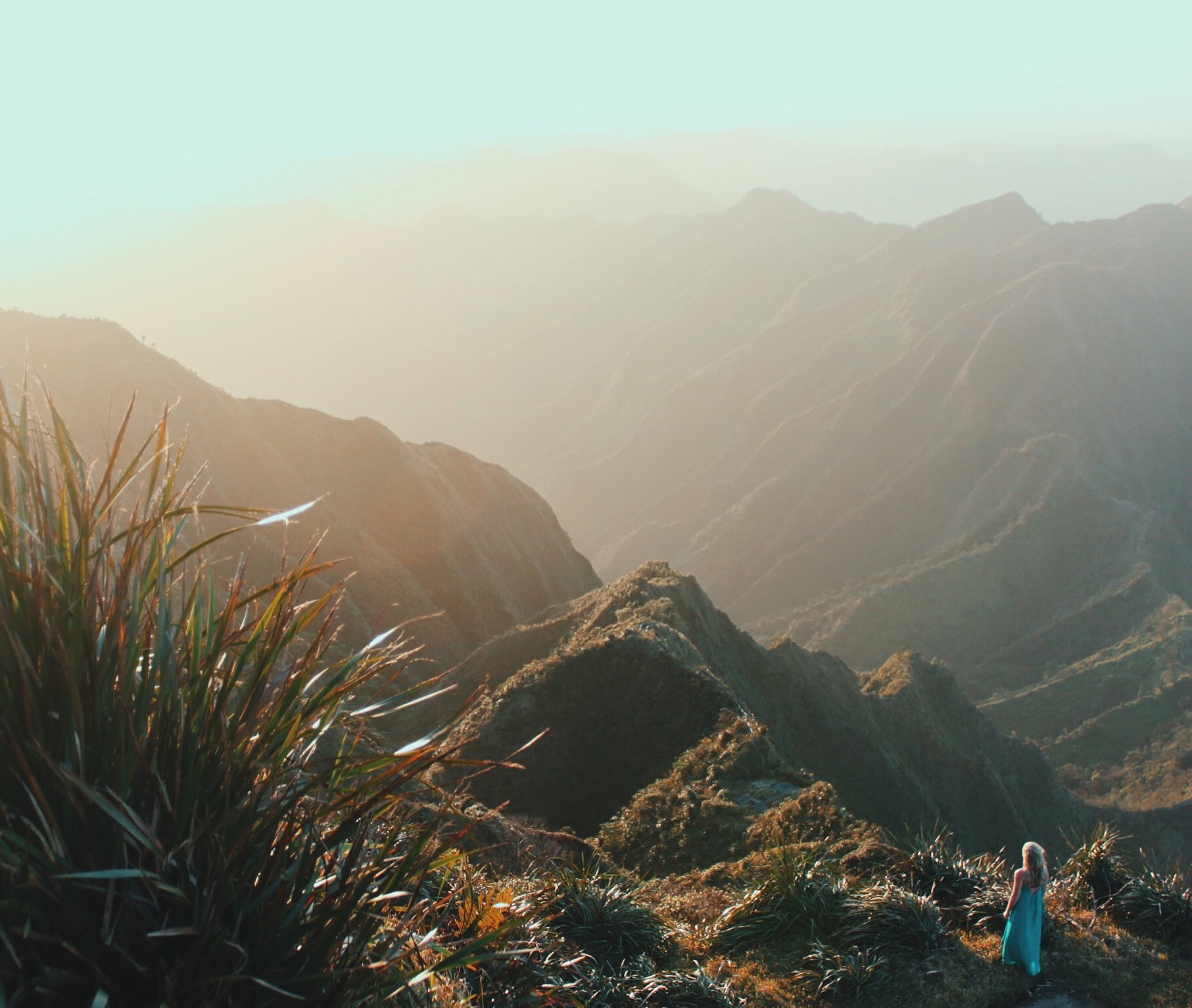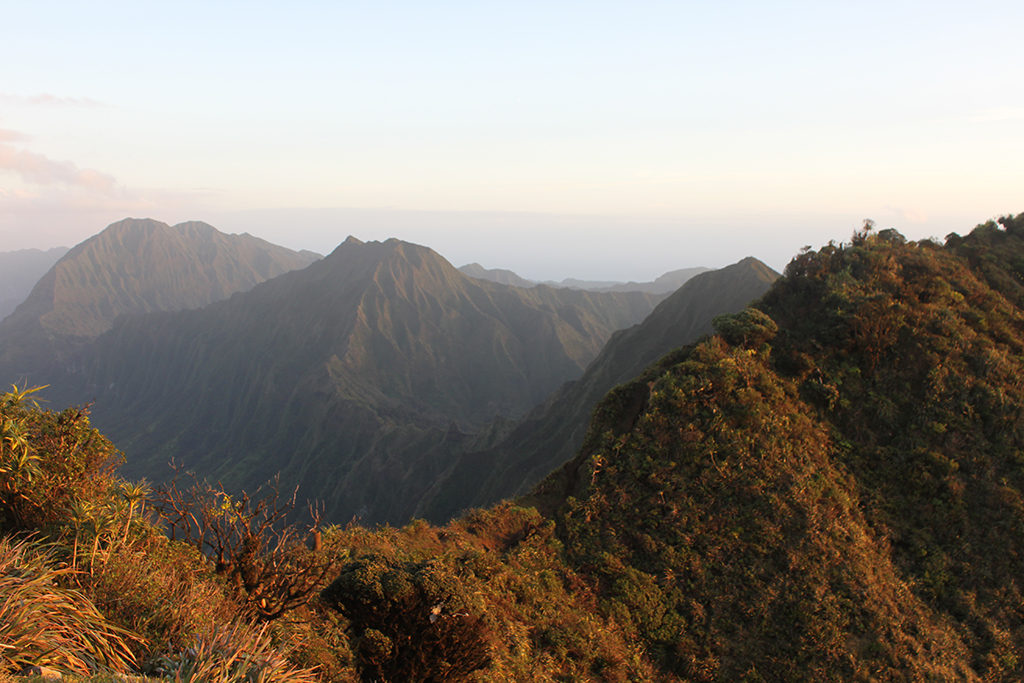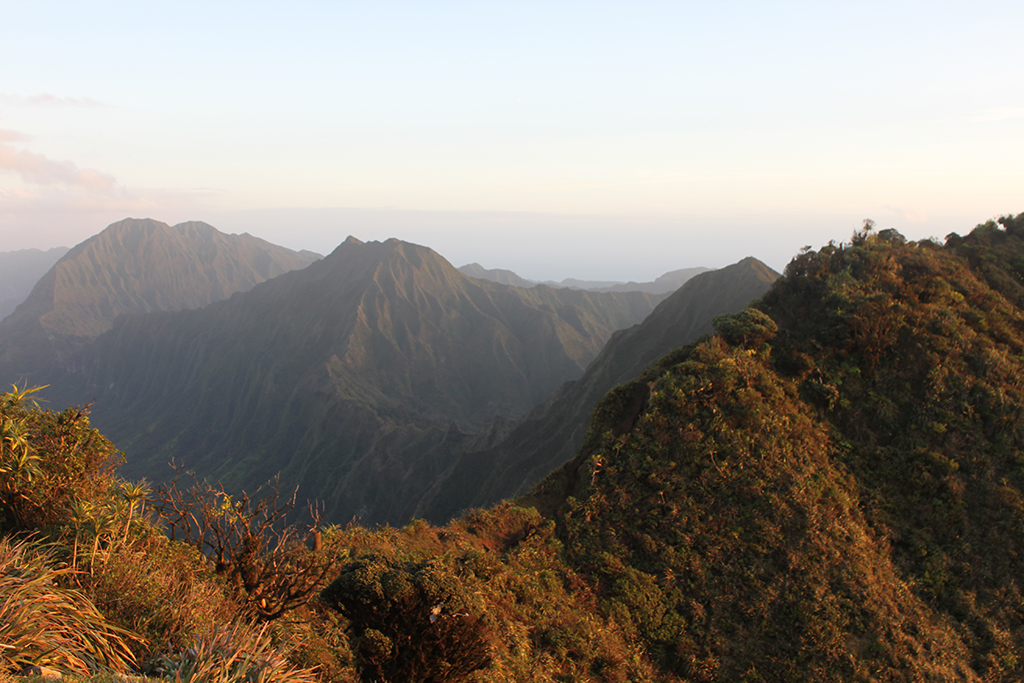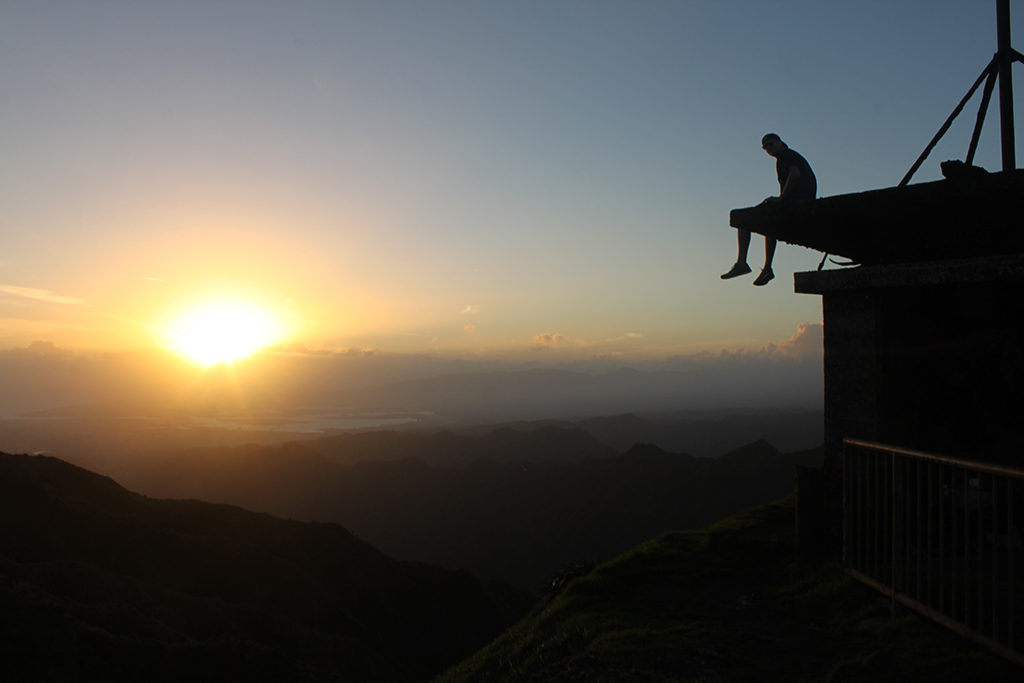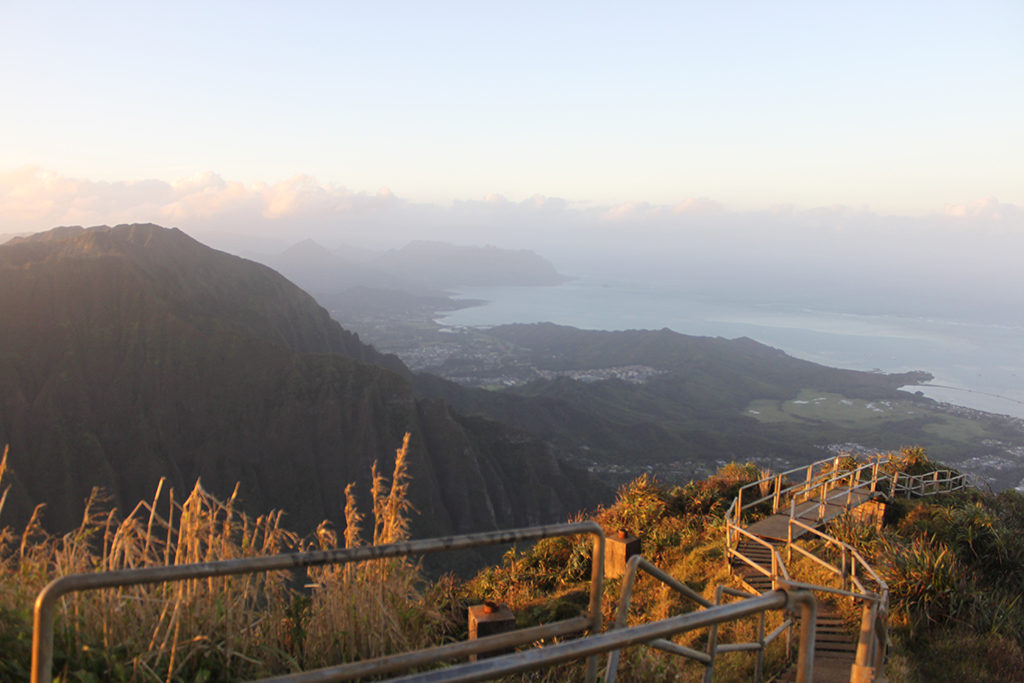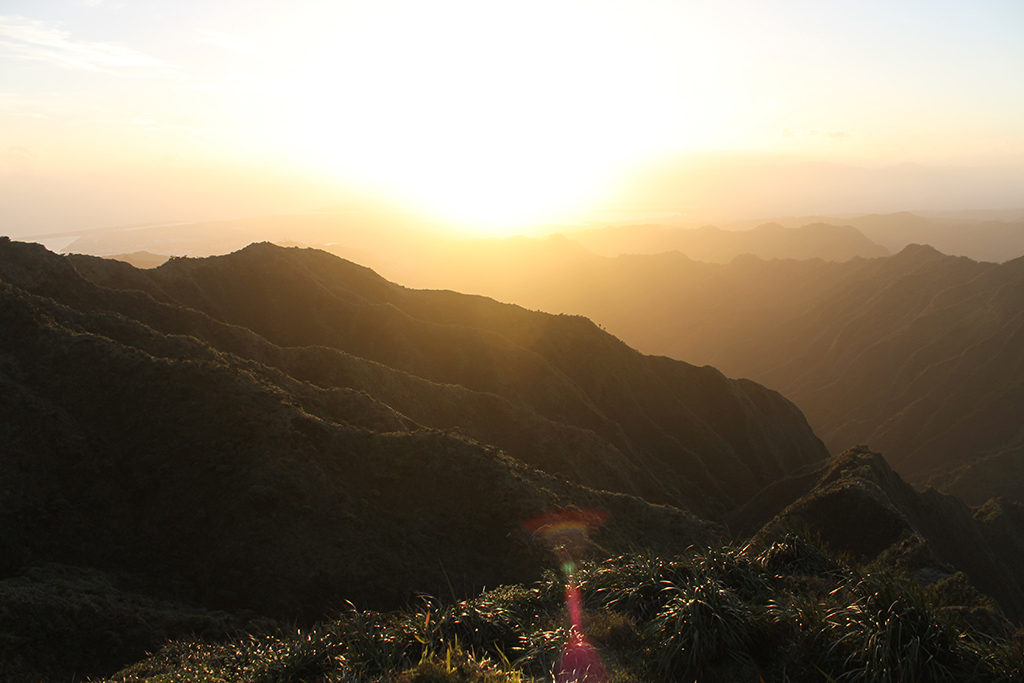 The stairs continued down a different way but we didn't want to be too far from our car so we decided to retrace our steps. We happened to run into two sweet Instagrammers Sage and Megan as we were about to go down. If you follow Hawaii Instagram feeds you'll know who these two are.
Descending is totally different than ascending because you're staring straight down the whole time. Both my friend and I were glad we decided to watch the sunset because we were descending in the dark so we couldn't see farther than the couple steps in front of us. Less sketchy if you ask me.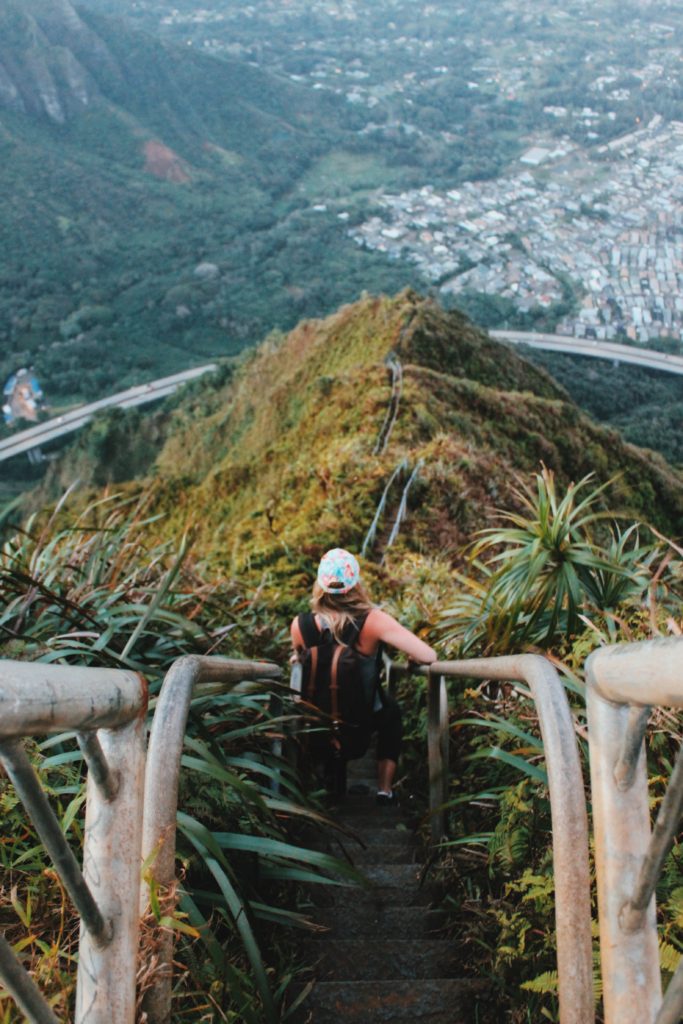 We got to the bottom and once again were sketching out because we knew there may be a cop waiting and a brand new guard. We saw a car as we passed through the gate at the bottom of the stairs and we said to ourselves "whatever happens, happens". The lights from the car immediately turned on, illuminating us to the point of blinding us and I thought we were FOR SURE getting a fine. We got closer and there was a man standing. He briefly told us that he was worried about us and many people have to call first responders when they come down this late (it was 7:30 and pitch black). After a second of letting our eyes adjust, I realized we were talking to the same guard that said he was off duty at 6 pm. He started to point us towards the way out, which was a small hole in a fence that we didn't come through before. I was skeptical because of all the talk about cops and the legality of the hike previously so I hesitated speaking. He then said, "I'll just drive you out to your car."
SAY WHAT!?
My friend and I looked at each other seemingly in agreement that this was not a setup. So we got in! He drove through two padlocked gates before getting to the road and we spent 10 min getting to know this kind man. We found out that he waited an hour and a half for us even though he had another job to go to! I don't want to say too much on here and get him in trouble so I'll leave it at that.
The sheer disbelief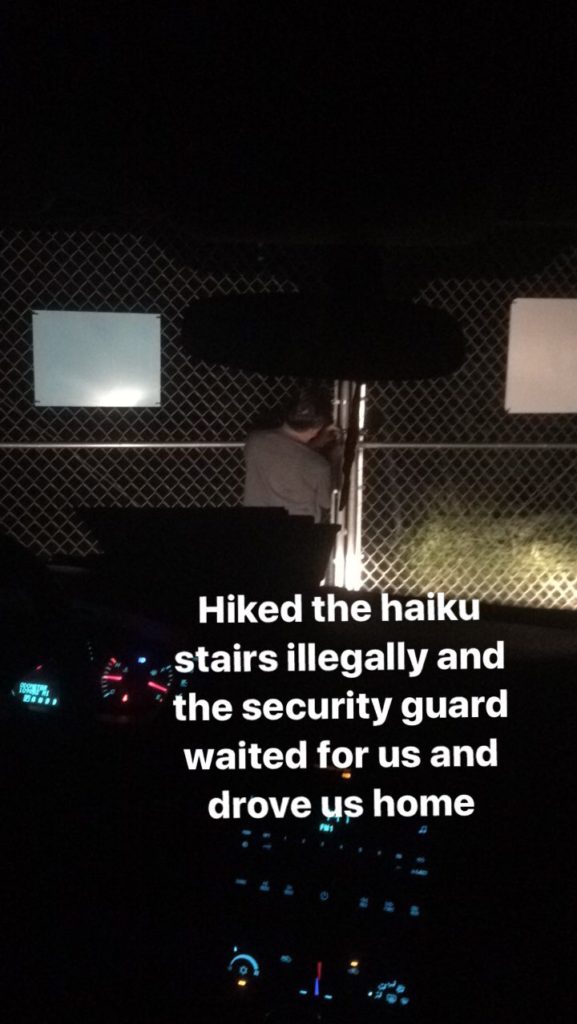 So here are some exposed myths about the hike:
you probably won't be fined, many people just walk right past the guards without speaking to them
it's very easy to go during the day as the road gates are freely open
no guard will be there between 6:30 pm and 10 pm usually
you can sleep up at the top, there is a shelter
we didn't run into any spiders contrary to some blogs we read
If you want to see more photos from this trip follow me @mariescholz or @aidangenik
Peace Out Home Dawgs!